Faculty of Social Sciences, Belgrade
The Faculty of Social Sciences in Belgrade is a unique higher education institution in the education system of Serbia and the whole region. It has been conceptualized so that it can adequately respond to the challenges of the 21st century. The Faculty is characterized by a modern approach to studies which prepares its students to be able to implement the acquired competences upon graduation easily and effortlessly in practice.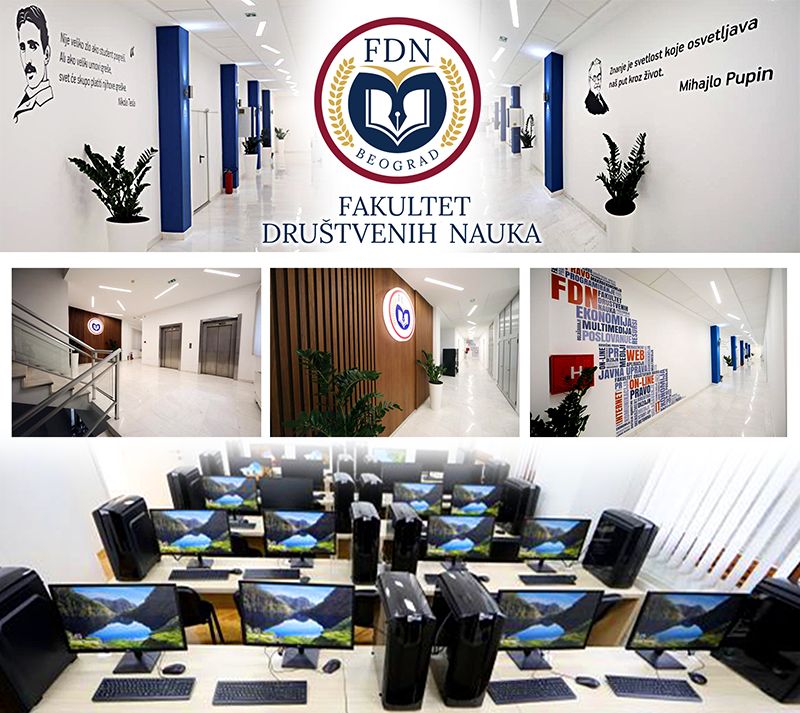 We provide our students of all study programs with organized internship during all four years of study, which is considered as an absolute imperative in the today's information age.
The Faculty of Social Sciences and its programs represent an integral whole composed of different social, economic, communication and managerial disciplines. This powerful and much needed synergy of individual disciplines results in added value in the form of innovative skills and competencies.
In short, our educational programs bring together the latest interdisciplinary knowledge from the fields of economics, digital media and communications necessary for the professional careers of future graduate economists, managers in the field of media and marketing, as well as experts in the field of communication.
The Faculty of Social Sciences in Belgrade provides its students with the opportunity to attend classes in the most up-to-date computer labs, modern study halls and classrooms, with an emphasis being placed on work in small groups or, if necessary, individual work with students.
Our vision and guiding principles put students at the center of the teaching and learning process, hoping for them to become the future ambassadors of their profession, both in the country and abroad.
Our carefully selected team of educators who work at the Faculty of Social Sciences is composed of leading experts in their fields. Without any doubt, that serves as a guarantee for the exceptional quality of teaching conducted at our institution and is one of the crucial factors leading to a successful completion of studies.
The Faculty of Social Sciences in Belgrade strives to meet particularly the needs of young generations who are willing to invest their time and efforts to acquire applicable knowledge, as one of the key requirements of any modern society today.
STUDY PROGRAMS
UNDERGRADUATE ACADEMIC STUDIES (BACHELOR'S DEGREE PROGRAMS)
| Study program | Duration | ECTS | Academic degree |
| --- | --- | --- | --- |
| Internet and Digital Marketing | 4 academic years (8 semesters) | 240 | Bachelor of Economics |
| Business Economics | 4 academic years (8 semesters) | 240 | Bachelor of Economics |
| Digital Media and Communication | 4 academic years (8 semesters) | 240 | Bachelor of Communication |
GRADUATE STUDIES (MASTER'S PROGRAMS)
| Study program | Duration | ECTS | Academic degree |
| --- | --- | --- | --- |
| Marketing and the Media | 1 academic year (2 semesters) | 60 | Master of Economics |
| International Business | 1 academic year (2 semesters) | 60 | Master of Economics |
| Digital Media and Communication | 1 academic year (2 semesters) | 60 | Master of Communication |